Today I'd like to show you how you can use your camera to surf the web. All you need is a Tizen based camera (NX30, NX300, NX300M, NX3000, NX2000, NX mini, …) and a WiFi access point. (Use this on your own risk!)
Note: This is not possible anymore using cameras with the 28MP sensor, like the NX1 and NX500.
Select Wi-Fi on the mode dial
Select SNS & Cloud
Select Flickr (make sure you're not logged in)
Scroll down the log-in screen and click on "View desktop version"
Click on the Yahoo! logo
The front page of yahoo.com is loading and you can use the search box to navigate to whatever page you are looking for.
In case you have a camera without Flickr you can do a similar trick with SkyDrive instead. After opening SkyDrive on your camera select What's this and finally you can use the loupe to search the web.
Thanks to tjobbe for this hint.
This is my blog on my Samsung NX30: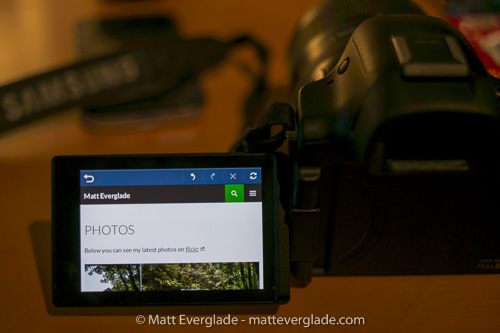 During my tests the camera crashed two times, but removing the battery for a second is enough to restart the camera. It seems that the web browser on the camera is not 100% stable, but it should be enough to check the weather forecast. 😉
Sadly it seems there is limited use of this "bug" as you can't really do anything special or device related in the browser. What the browser is (not) capable of:
No audio
No video
No geolocation
No file upload/download
No webcam/camera access
Fun Fact: Although the NX30 is a Tizen based camera it identifies itself as Android based device:
Mozilla/5.0 (Linux; U; Android 4.3; ko-kr; SAMSUNG; NX30) AppleWebKit/535.19 (KHTML, like Gecko) Chrome/18.0.1025.166 Mobile Safari/535.19