In my Samsung NX30 – Field Report I described that legacy lenses mounted on my NX30 produce green corners in the photos. Michael Tadd kindly posted a comment with a solution for this problem. In this post I'll try to explain why this problem occurs and how it can be avoided.

After Michael's comment I made many tests to check his solution and to get an explanation when and why this happens.
Apparently the newer NX camera models (problem is confirmed for NX30, NX300M, unconfirmed for NX300, NX3000, NX1) apply software based corrections (vignetting?) to the photos when native NX lenses are mounted to the camera. In case a non-native lens is mounted to the camera (e.g. the Samyang lenses or an old adapted legacy lens) this correction should be switched off. Actually this only works as expected when the camera is switched on, but you run into problems in case you switch from a native lens to a non-native lens in a switched off state. At the starting sequence the camera doesn't disable the correction when the lens has been changed. Therefore it is applied to a lens which doesn't need this correction which leads to the green corners you can see below.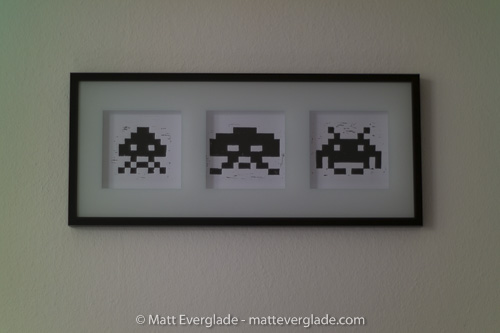 It seems that the influence of this correction depends on the lens you had mounted to the camera before you switched the lenses as the intensity of the green corners seem vary depending on the previously mounted lens. Additionally the corrections are directly applied to the content of the RAW files and it is not just a correction setting stored in the RAW file, which is applied later in post processing / RAW conversion. I tried to load the RAW files in RAWTherapee and Lightroom and both showed the green corners, but RAWTherapee doesn't apply the correction settings stored in the RAW files so that's why I got to this conclusion.
After reading this you might already know the solution/workaround for this problem: Only change the lenses when the camera is turned on. In case you mounted a non-native lens before powering on the camera simply unlock the lens at the mount and rotate the lens slightly until you get the message "Lens detached" on the screen and afterwards undo this to disable the correction.
Michael also sent me a video explaining the workaround: