Introduction
In this review I would like to share my experiences with the Samsung 20-50mm F3.5-5.6 ED II. It was mostly sold as kit lens combined with the entry/midrange level cameras and is known to deliver an higher-than average image quality for this type of lens. I will check whether this lens really lives up to one's reputation. The lens is also sold separately for a recommended price of 269€. In collapsed mode it is about one cm larger than the Samsung 16-50mm PZ and two and a half cm smaller than the Samsung 18-55mm. It is nearly as lightweight as the Samsung 16-50mm PZ. The lens doesn't provide any image stabilisation (OIS). The filter thread has a diameter of 40.5mm, which is quite odd. You can find the most important aspects of this lenses specification in the NX lens overview or in the official technical specifications.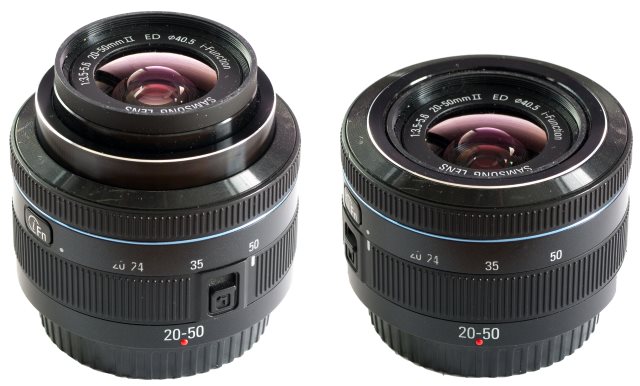 Revisions
In this review I will test the second revision of this lens. The second revision introduced a slightly different body design which feels better and more durable. There are no additional changes known so except for the chapter "Build quality" all other chapters should apply to the first revision, too.
The lens is available in black, pink and white.
Build quality
The build quality has improved in revision II of this lens. Nevertheless it doesn't feel high quality. The body of the lens and the barrel mount are completely made of plastic. The expandable elements of the lens are a bit wobbly, too. Overall the lens feels cheap, but that is more or less what I expect from a cheap kit lens. 😉
You need to lock the lens to collapse it completely. Locking and unlocking the lens can be a bit annoying over time, but protects the lens elements.
Focus
Speaking about autofocus this lens is probably the slowest lens in the NX line up so nothing you want to use it for action photography or video. Depending on the situation the lens needs about one to two seconds for focussing. Additionally it is emitting an awkward and loud noise when focussing. I wouldn't use this in a quite environment.
The manual focus is fly-by-wire and feels like with most other fly-by-wire lenses produced by Samsung. Unfortunately there is no AF/MF switch on the lens.
The lens is not focussing internally which means that the front element of the lens is rotating when focussing. This could lead to problems when you are using a graduated neutral density filter or a polarising filter.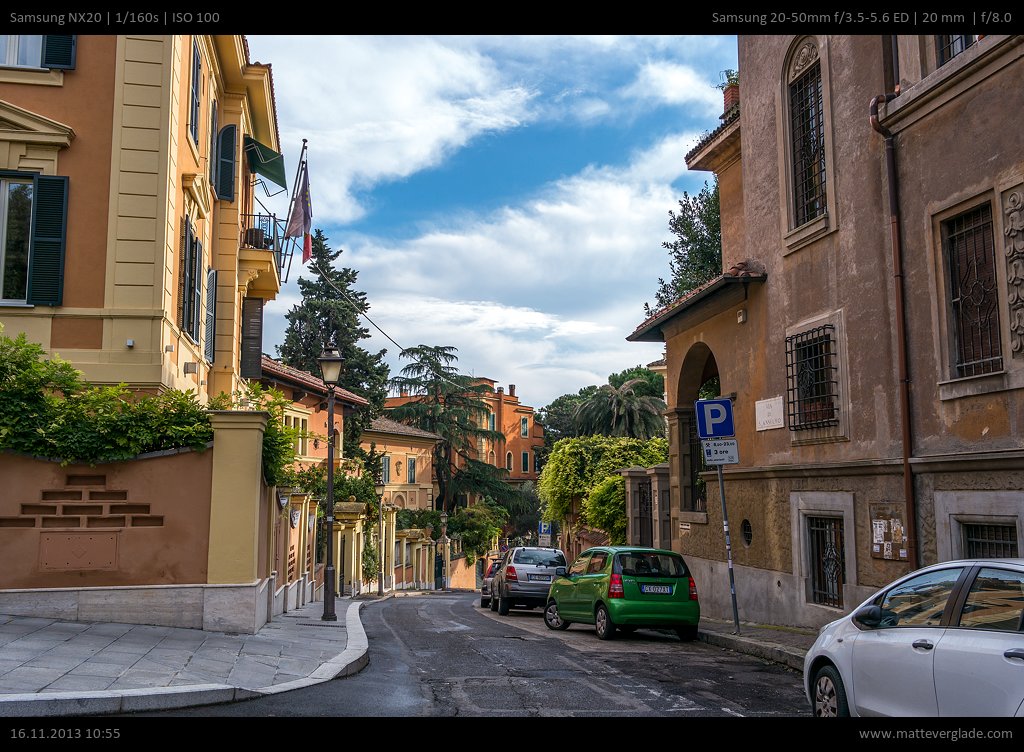 Image quality
Distortion and vignetting are automatically corrected by Lightroom based on the information Samsung delivers with their RAW files. Therefore those aspects are not evaluated in this test. The RAW files don't show any noticeable vignetting and distortion after correction (if any is applied).
Sharpness
I shot test series at 20mm, 24mm, 28mm, 35mm and 50mm. To make this article short and sweet, I skipped the analysis for the test series at 28mm.
Overall the lens is quite good for a kit-lens. At 20mm the lens is quite weak from f8 or f11 onwards, but already at 24mm the problem is mostly gone. At 50mm the corners quite weak. Having this in mind the lens gives above average results for a kit-lens.
20mm
The center is very good at all apertures until diffraction starts at f11, which is quite early. The weak sharpness at f8 is probably due to a focussing error as the sample images (see below) are much sharper at 20mm and f8. The midframe is good only at f5.6 and f8. The corners are decent at f3.5 and get better until they get quite good at f5.6. From f11 onwards the corners get worse. Looking at the 24mm and 28mm tests the results get better at f11.
To put it in a nutshell, f5.6 and probably f8 are the best apertures at 20mm. The bad result in the comparison is probably due to a focussing error on my side. For sharp photos at 20mm and f8 have a look at the samples in the corresponding chapter.
…

24mm
The sharpness improves a when switching from 20mm to 24mm. The center at f3.5 is near to good and from f4 to f8 is really good. From f11 onwards diffraction is more and more visible, but at least f11 is also near to good. The midframe is a bit soft from f3.5 to f4, bit is near to good at f5.6 and f8. The corners are best at f8 and get worse/soft when stopping up/down.
Overall this focal length performs quite good when used with apertures between f5.6 and f11.

35mm
The center is already good at f4.5 and from f5.6 to f11 there is nothing to complain about. The midframe is okayish at f3.5 and gets quite good at f8 and f11. Diffraction kicks in after f11. Sadly the corners never get really good and are only decent at f8 and f11 where the corner performance is on it's top.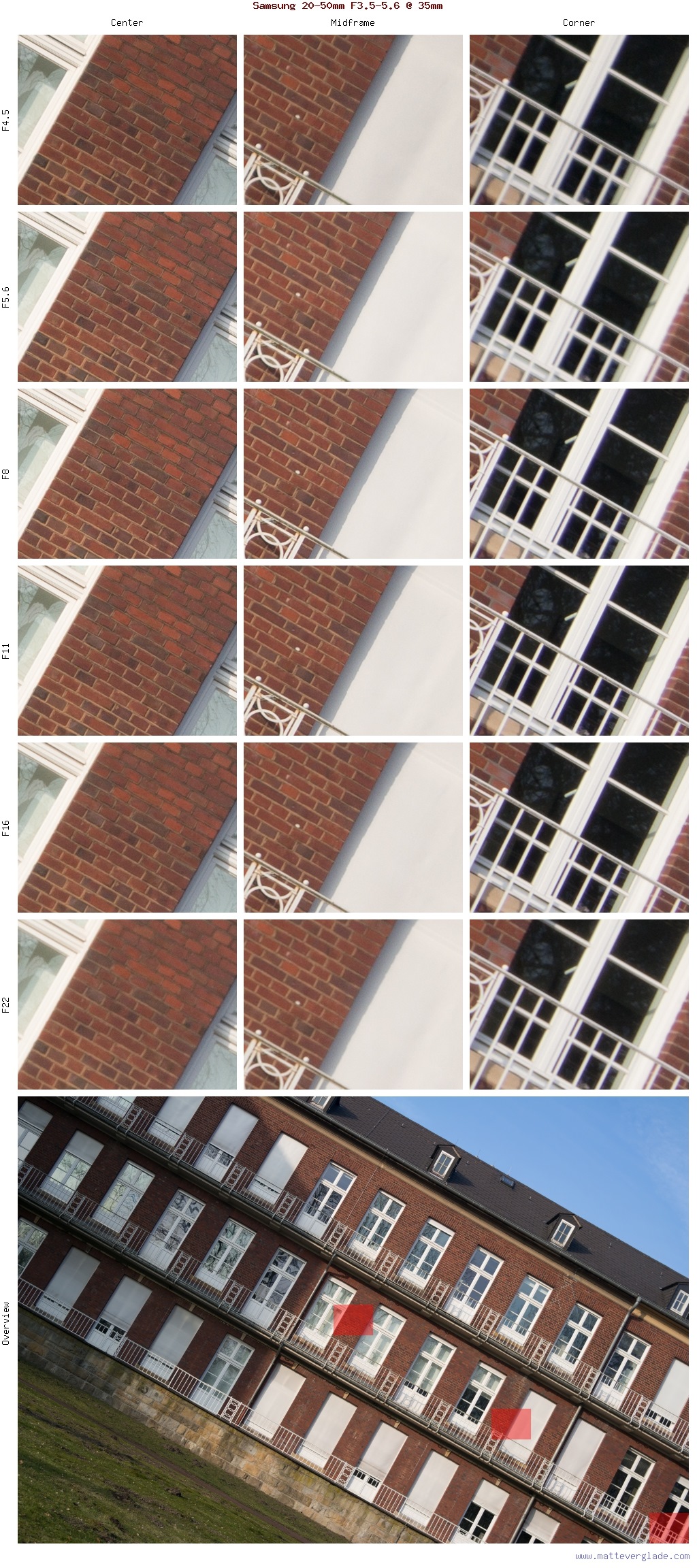 50mm
The center is good at f5.6 and f8 and gives the best results at f11. f16 performs similar to f5.6 and at f22 the diffraction is clearly visible. Midframe performance is at it's best at f11 and is only decent before and after. The corners are quite soft and blurry at all apertures. The corners at f5.6 are the worst in this test.
To sum it up the lens performs best at 50mm when the aperture is set to f11.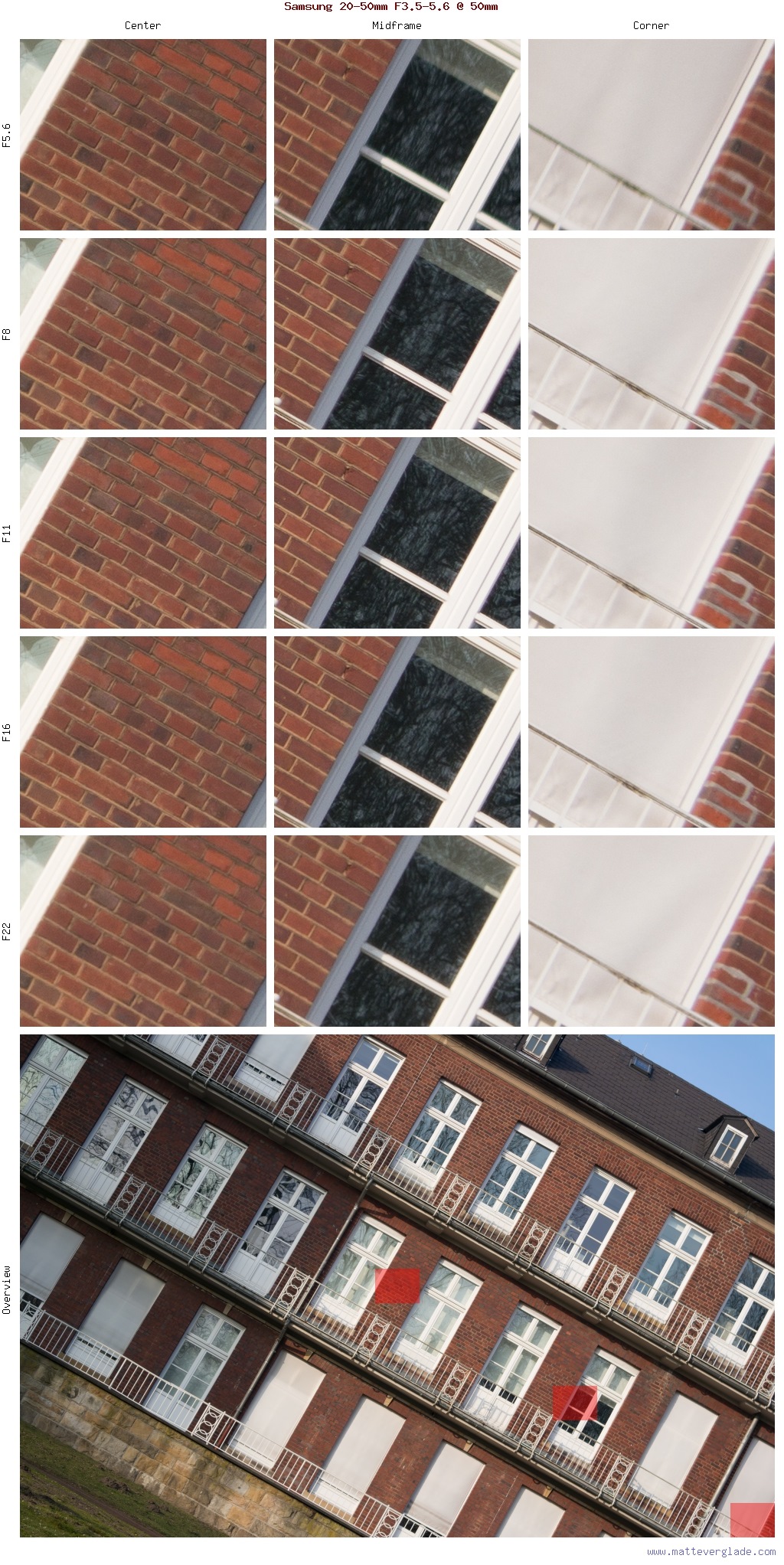 Bokeh
The circles in the bokeh are round at maximum aperture and are getting a slightly polygonal shape when stopped down. The general impression of the bokeh is acceptable, but I'd like it to be a bit more creamy and soft. Depending on the background it can get a bit busy, too. But as this lens is not very fast there are probably not much situations where you really get much bokeh anyway.
Flare Resistance / Contrast
In certain circumstances the lens produces flares. They are not too intensive though. The contrast is reduced a little when shooting against the sun.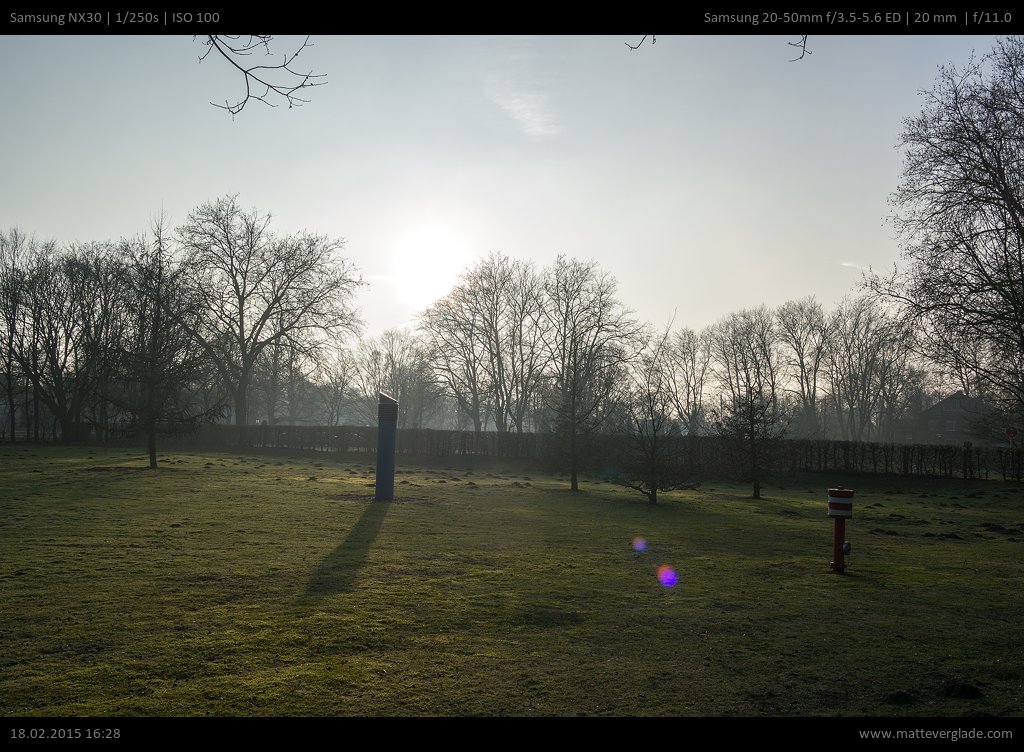 Chromatic Aberration (CA)
To keep it short: Chromatic aberrations, both longitudinal and lateral, are negligible overall. The lens performs very good in this regard.
Alternatives
Samsung offers four zoom lenses with an similar focal length coverage.
Samsung 18-55mm F3.5-5.6: It's advantage is an integrated OIS and a faster autofocus. Additionally the filter thread has a more common diameter. Besides this there is not much you would gain by using this lens. In contrast it's much larger than the Samsung 20-50mm.
Samsung 16-50mm F3.5-5.6 PZ: This is the newest addition to the "cheap" kit lenses. It offers an integrated OIS, a good auto focus speed, a bit more wide-angle, has a better usable 43mm filter thread and is 1cm smaller. It has an power zoom which makes it more suitable for videographers. You pay for the advantages with a bit worse image quality. Overall this lens seems to be the more complete package in comparison to the Samsung 20-50mm and I would recommend it as a general purpose lens.
Samsung 16-50mm F2-2.8 S: This is a premium-class lens which is much faster than the other kit lenses. It's therefore much larger and heavier, but offers also OIS and a fast AF. If this is what you need, you should have a good amount of spare money.
You might also think about buying cheap legacy zoom lenses. I wouldn't suggest to do so as those old lenses usually perform quite bad on newer sensors. They usually can't deliver enough information for the high resolution sensors nowadays. There are some exceptions like the Minolta MD Zoom 35-70mm F3.5, but you are loosing the option to take wide-angle photos.
Conclusion
This lens has many pros and cons, that might attract or distract you from this lens. If you are after a small and lightweight lens that delivers the best image quality of the non-premium Samsung lenses then this lens is well suited for you. If you need a snappy and/or quite AF, OIS or want to use filters extensively you should take one of the other lenses available.
I replaced my Samsung 18-55mm kit lens with this lens as I wanted a smaller lens and the image quality was quite attractive. The cons were not that important for me as I had some other lenses as fallback (12-24mm, 30mm, 45mm). But without those lenses I would have stayed with the 18-55mm at that time. I just sold this lens again and replaced it with the 16-50mm PZ as it is smaller and provides an OIS which I don't have on the other lenses. Additionally the filter thread is 43mm like with the other pancakes (16mm, 20mm, 30mm, 45mm). The image quality is a bit behind the 20-50mm, but if I need better IQ I can always switch to the other lenses I own.
Positive
Negative

Overall good Image quality
Small
Lightweight

AF (speed and noise)
No OIS
Restricted use of filters

Odd filter thread (40.5mm)
Rotating front element
Sample Images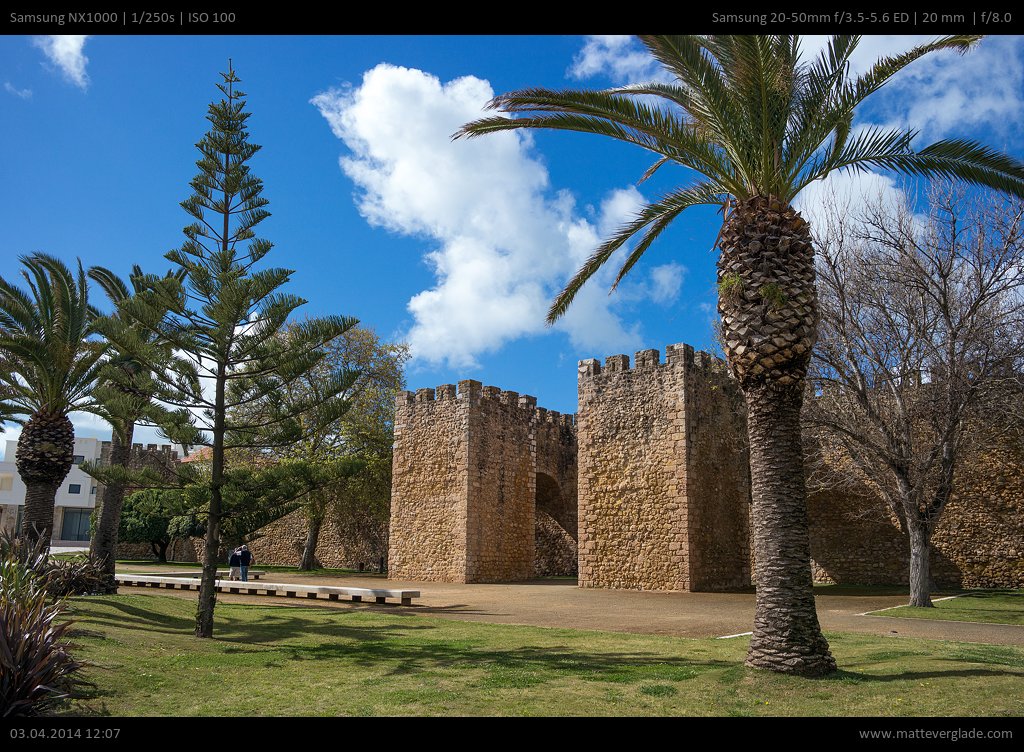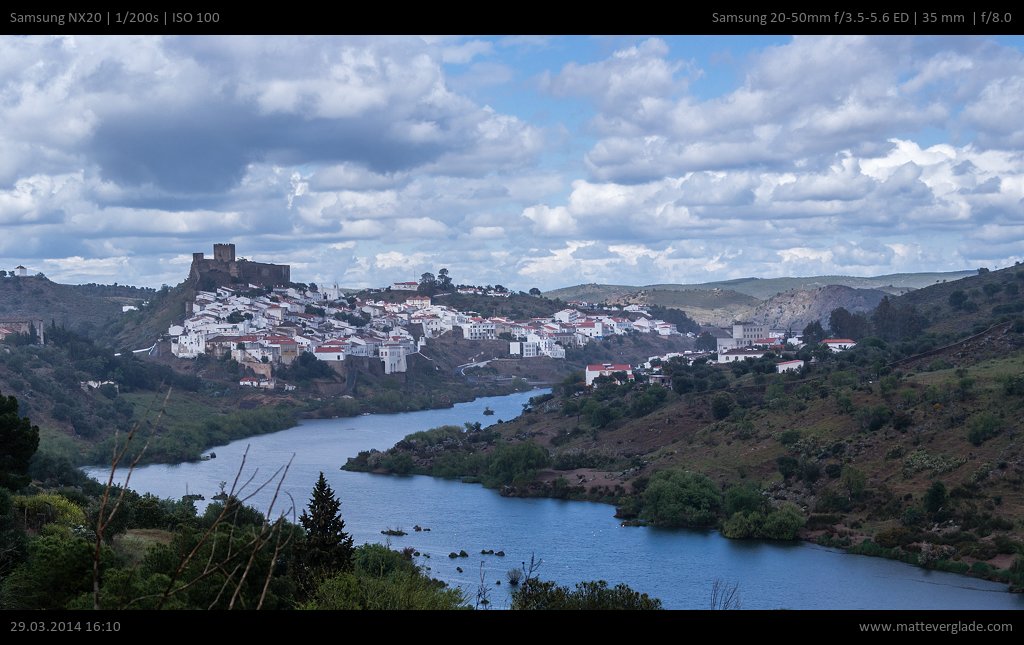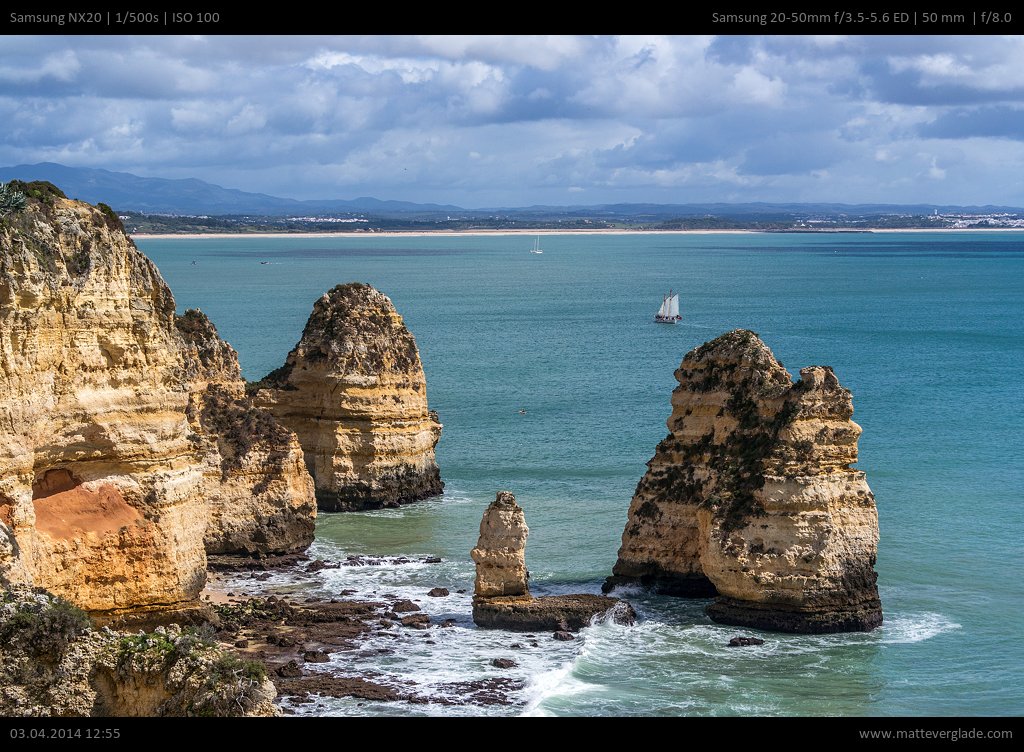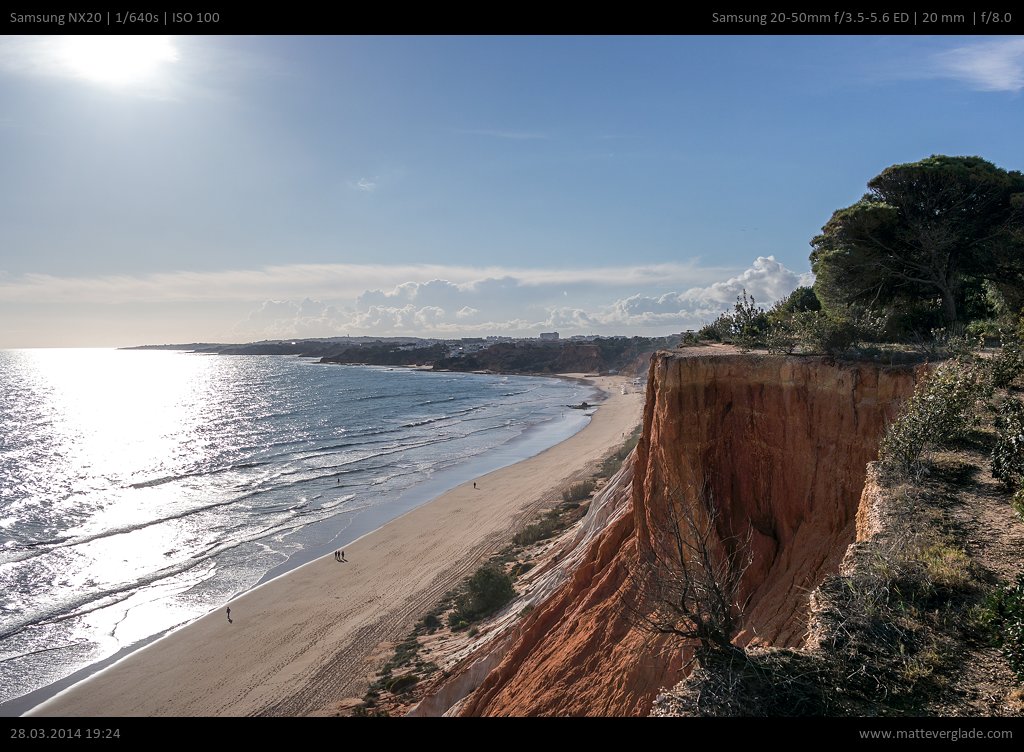 You can find more images taken with this lens in my corresponding Flickr set.
Other reviews