Introduction
In this review I would like to share my experiences with the Samsung 16-50mm F2-2.8 S ED OIS. It's the first 'S' lens, which is Samsungs brand for premium lenses, like Canon has their 'L' lenses. The lens can be bought as a bundle with the NX1 and is also sold separately for a recommended price of 1299€. I will check whether this lens is worth the money.  Compared to the Samsung 16-50mm F3.5-5.6 PZ kit lens it is about three times the size (= 9,7 cm depth) and about six times the weight (= 622 g). The lens provides image stabilisation (OIS) and has a dedicated switch for that. Additionally it has an AF/MF switch and the i-Function button. The filter thread has a diameter of 72mm, which is the same compared to the Samsung 50-150mm F2.8 S. It is declared to be dust and weather resistant, like all S lenses. You can find the most important aspects of this lenses specification in the NX lens overview or in the official technical specifications.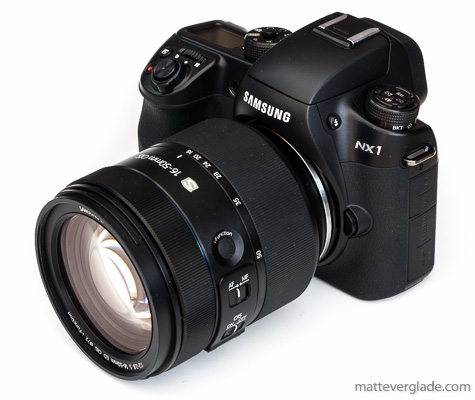 Handling and build quality
The lens is solidly built, with a combination of metal and good plastics. Nothing wobbles and the buttons are good to handle. There is a rubber lip (for weather resistance) on the metal bayonet mount. The zoom ring has a good resistance, the focus ring could be a bit easier to move, but overall I am very satisfied with both. The focus is done using the method fly-by-wire, but it doesn't feel like with the other NX lenses, where the focus ring has mostly no resistance. Overall I am very happy with the quality Samsung delivered with this lens.
The lens is well balanced when used on the NX1, but I wouldn't want to use the lens with one of the smaller cameras like the NX500 or NX3300 for a longer period. Unfortunately there is a small glitch with the NX30: My fingers are to thick to fit conveniently between the lens and the handgrip of the NX30. When zooming the rubber surface of the zoom ring scrubs my finger. Persons with smaller fingers might not encounter this problem.
There is another small glitch due to the size of the lens. The barrel of the lens partially shadows the AF lamp and therefore it might reduce autofocus performance in the shaded areas.
Focus
The autofocus speed is very fast and the lens provides one of the fastest focus motors in the NX system. The noise emission is very low. In quite environments you might notice that there is a permanent gentle noise.
The manual focus is fly-by-wire, but feels much better as with all other fly-by-wire lenses produced by Samsung. There is a dedicated AF/MF switch on the lens. The lens provides internal focussing, which means the  front element is not moving during focussing. This avoids problems when you are using a graduated neutral density filter or a polarising filter.
Unfortunately you need to be aware of the fact that the lens has problems with field curvatures. Therefore be careful when choosing the location of your focus point!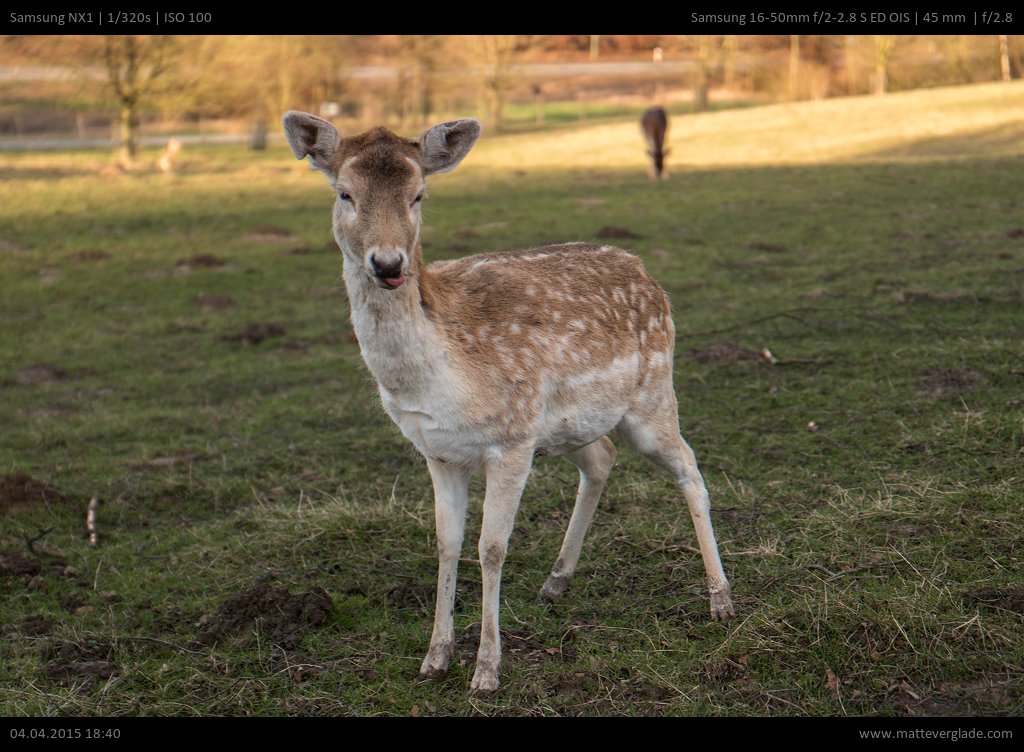 Image stabiliser (OIS)
Regardless of the focal length the OIS helps me to get sharp photos until 0,3 seconds exposure time. Without OIS I can hold the camera steady between about 1/13 seconds (16mm) and 1/30 seconds (50mm). This results in an improvement of two to three stops with OIS depending on the focal length. This implies that you can hold the camera steady quite easily without OIS, which is probably a result of the weight and the well balanced combination of the camera and the lens and the OIS works slightly better with higher focal lengths.
The combination of the fast apertures and the good OIS really helped me to get sharp shots in darker areas or at night time, e.g. when shooting in the city during the blue hour. With my previous zoom-lenses I would have to use a tripod for many of those shots.
Image quality
Sharpness / Contrast
Generally the contrast is very good on this lens and is slightly reduced only at maximum aperture with some focal lengths. The center and midframe are mostly sharp, but the corners give an indifferent result. I'd say average image sharpness is good at the wider focal lengths (16 to 20mm), very good in the middle range (24 to 28mm) and only mediocre from 35mm onwards.
16mm / 20mm
Center sharpness is good already at f2 and improves till f2.8 to a very good level until f11 is reached where diffraction kicks in slowly. Contrast is reduced at f2, but improves at f2.8. The corners are weak at maximum aperture which slowly improve till 5.6 to a mediocre level. CA are visible in the corners. The midframe is slightly worse than the center, but much better than the corners at the respective apertures.

The lens behaves similar at 20mm with slightly improved results. Contrast is is already improved at f2.2 and corners are already on a mediocre level from f4 onwards.
24mm / 28mm
The center and midframe sharpness at 28mm is very good already at maximum aperture and stays on this high level until f11, where diffraction slowly creeps in. The corners are decent at maximum aperture and improve to a very good level at f4, which is delivered until diffraction starts. The overall image quality is best at 28mm with very good results across the frame. The Samsung 30mm F2 lens delivers slightly better center performance, but surprisingly the corners are better on the zoom-lens tested here.

The lens behaves similar at 24mm with slightly worse results. Center and midframe results are nearly equal, but the corners are a bit more soft at 24mm from f2.5 till f4 and reach a quite good level from f4 till f11. The last bits of CA are visible in the corners, which are gone at 28mm.
35mm
The very good results at 28mm decrease drastically at 35mm. The center performance at f2.8 and even f4 is only mediocre and the corners are really soft. The center is good between f5.6 and f11, but corners are only mediocre. From f16 onwards diffraction is clearly visible. After the surprisingly good results at 28mm, I would have expected better results at 35mm.

50mm
The results from 35mm are mostly transferable to 50mm aswell. Corners are mostly soft and even the Samsung 16-50mm f3.5-5.6 PZ delivers slightly better results than this lens. Contrast is slightly reduced at maximum aperture.

Bokeh
The nine aperture blades are rounded which mostly leads to round or nearly round bokeh circles. The circles are round at all apertures for wider apertures.  You'll notice that the circles get more and more rough the closer you get to 50mm and the more you close the aperture.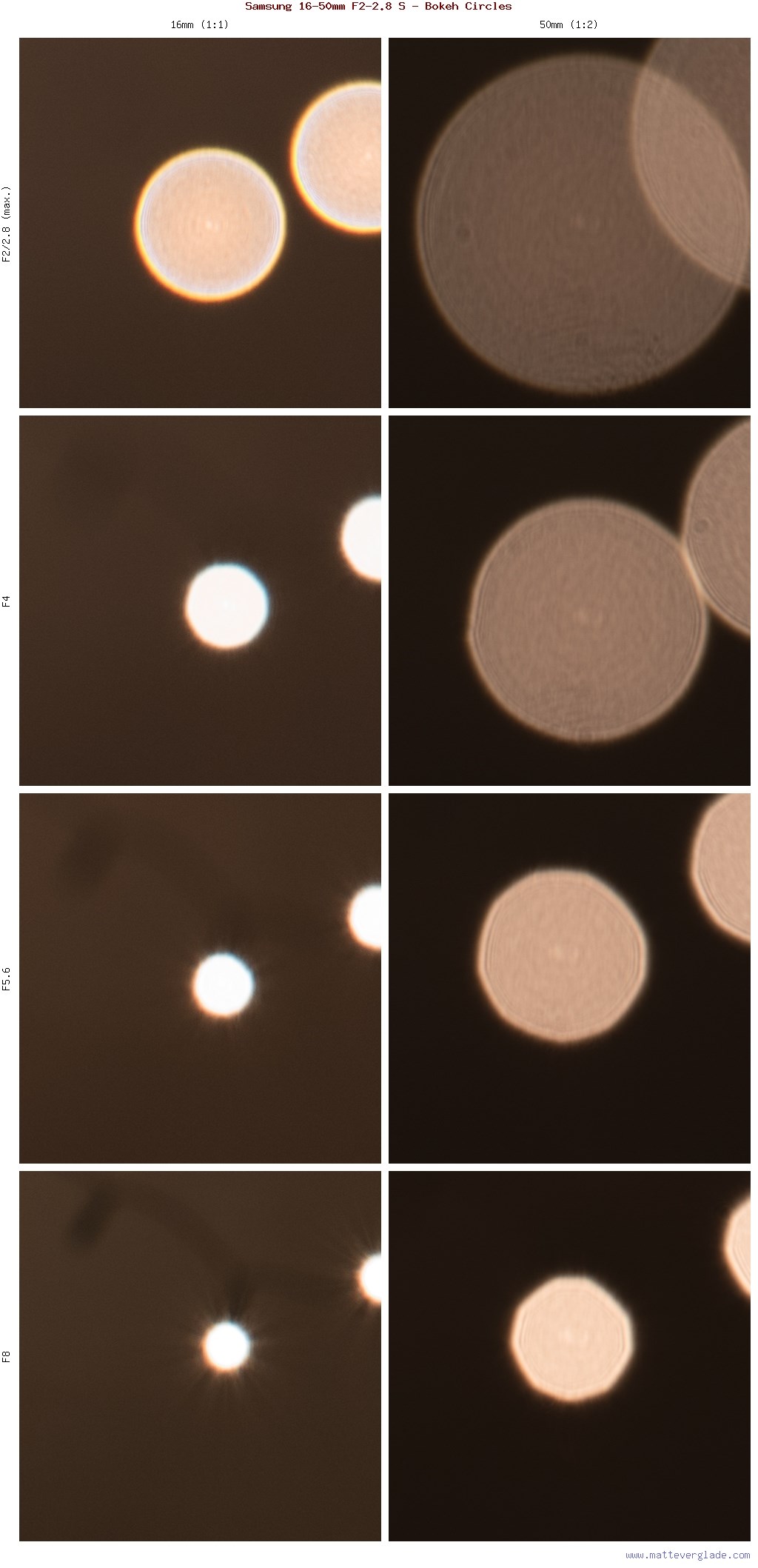 In my opinion the out of focus area looks quite smooth and creamy, especially at 50mm. I like it a lot, but decide for yourself: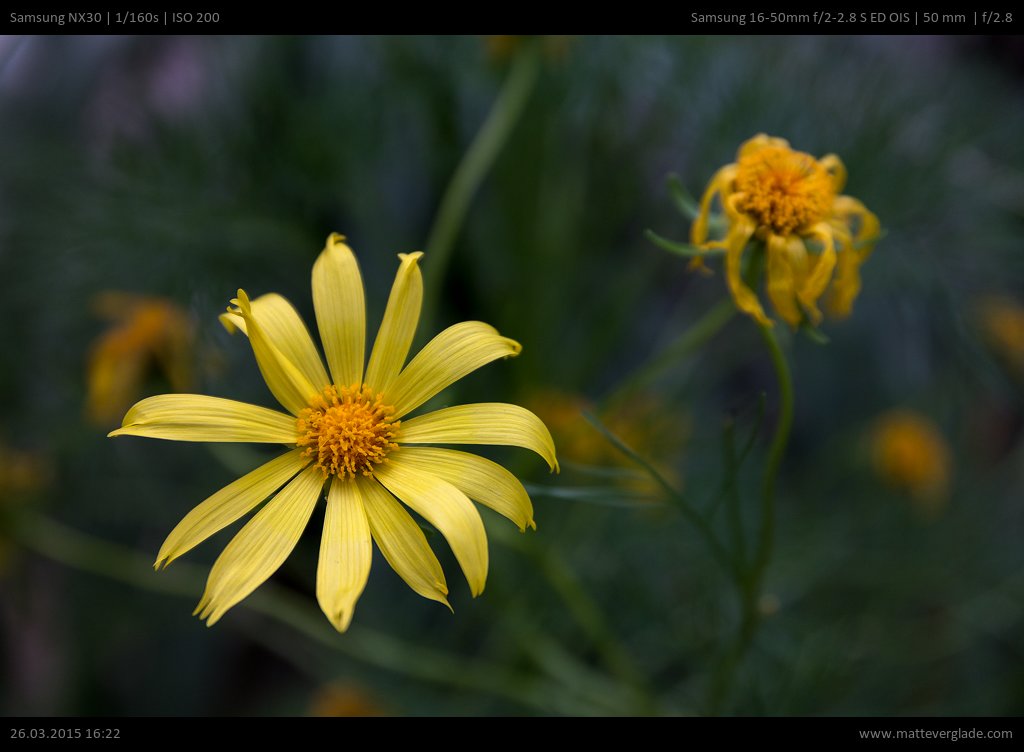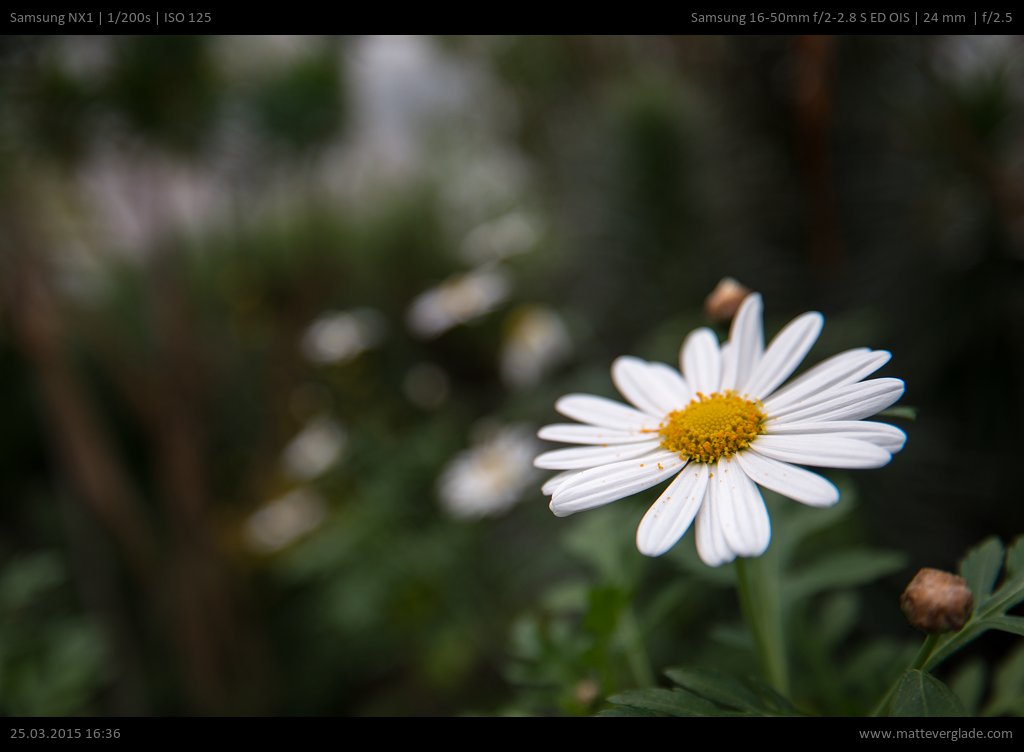 Distortion
Distortion is well controlled for a lens of this type. At 16mm there is about three percent barrel distortion which decreases towards the middle of the focal range and increases again to about one percent with the lens zoomed to 50mm. Anyway, distortion should be automatically corrected by Lightroom based on the information Samsung delivers with their RAW files.
Vignetting
Vignetting is barely visible and clearly below one stop at maximum aperture. For a lens with this specifications it is a really good result. Anyway, vignetting should be automatically corrected by Lightroom based on the information Samsung delivers with their RAW files.
Flare Resistance
The lens tends to produces some flares throughout the whole zoom range. They are not very intensive though. The contrast is not reduced by much when shooting against the sun. You can use the supplied lens hood to block some sunlight to avoid flares.
By the way: The lens hood can be put on the lens vice-versa, but this hides the buttons (i-Function, OIS, AF) and the focus ring completely.
Chromatic Aberration (CA)
Lateral chromatic aberrations can occur mostly in the midframes and corners at bright edges with an average size of one to two pixels. They are well controlled around 28mm focal length.
Longitudinal chromatic aberrations are not noticeable at all, which is an excellent result for a lens of this type.
| | |
| --- | --- |
| The lens tends to show CA in certain situations. | After applying CA correction in Lightroom. |
​Alternatives
Samsung offers four zoom lenses with a similar focal length coverage.
Samsung 16-50mm F3.5-5.6 PZ: This is the newest addition to the "cheap" kit lenses offering the same focal lengths. It has an integrated OIS, delivers a good auto focus speed and is much smaller and lighter. It is an power zoom which makes it more suitable for videographers. You pay for the advantages with a worse image quality. If you're on a budget this lens could be well suited for you.
Samsung 20-50mm F3.5-5.6: This lens has a reduced focal length, but has a slightly better overall image quality than the other "cheap" kit lenses. It's therefore much lighter and smaller, but offers no OIS and has only a slow and noisy AF.
Samsung 18-55mm F3.5-5.6: I can't think of a reason why someone would want this kit lens. All other mentioned zoom lenses have some kind of advantage compared to this lens.
Samsung 16mm F2.4, 20mm F2.8, 30mm F2.0 and 45mm F1.8 (pancake) lenses: If you want to go for the maximum image quality this is for you, but you need to change lenses.  In the lower focal lengths (16mm, 20mm) the aperture is not as fast as with the zoom lens, but the 30mm and the 45mm are faster. With one of these lenses you could also get a more compact camera for daily use. IQ wise the 30mm and the 45mm are superior to the zoom lens, the 16 and 20mm are on the same level as the zoom lens.
You might also think about buying cheap legacy zoom lenses. I wouldn't suggest to do so as those old lenses usually perform quite bad on newer sensors and I don't know of a single legacy lens with similar specifications anyway.
Conclusion
This unique lens is a good addition to the Samsung NX lens line-up. Overall I like the lens as it is very well built and the handling feels good. Combined with a NX1 it is very well balanced, though it could be a bit too large for smaller cameras. Image quality overall is good, but from 35mm onwards the sharpness is a bit disappointing. therefore I liked to use this lens for portraits, architecture, "macro" and street photography as it is working very well in low light situations and gives a nice bokeh. Nevertheless I am more into landscape photography and for this type of photography I'll continue to use my other lenses. The bokeh is smooth and could be used for some nice macro-like shots. Autofocus performance is good and we had no problem to use tracking for sports. If you don't need the best image quality in the corners, but a lens which is weather sealed and gives you the flexibility to shoot in low-light situations without a tripod, I'd suggest this lens to you.
Positive
Negative

Build quality
Smooth Bokeh
OIS
Fast AF
Sharpness at 28mm
Maximum aperture of f2 at 16mm

Sharpness between 35 and 50mm
Lateral CA in the corners
Size
Weight
Closing remarks
I am publishing this content in my free-time and have several expenses (hosting, buying gear, …) to cover. If you like what you are reading please consider to support my work. If you decide to buy the mentioned product, please use one of the affiliate links below. This is free of charge for you, but I'll earn a small commission. This supports my work and any support is highly appreciated by me! Just select one of the stores to buy the Samsung 16-50mm F2-2.8 S (or other things):
Amazon DE
| Amazon UK
| eBay DE | eBay UK | eBay US
More stores/countries can be found on the "How to support me" page. Thank you!
Sample Images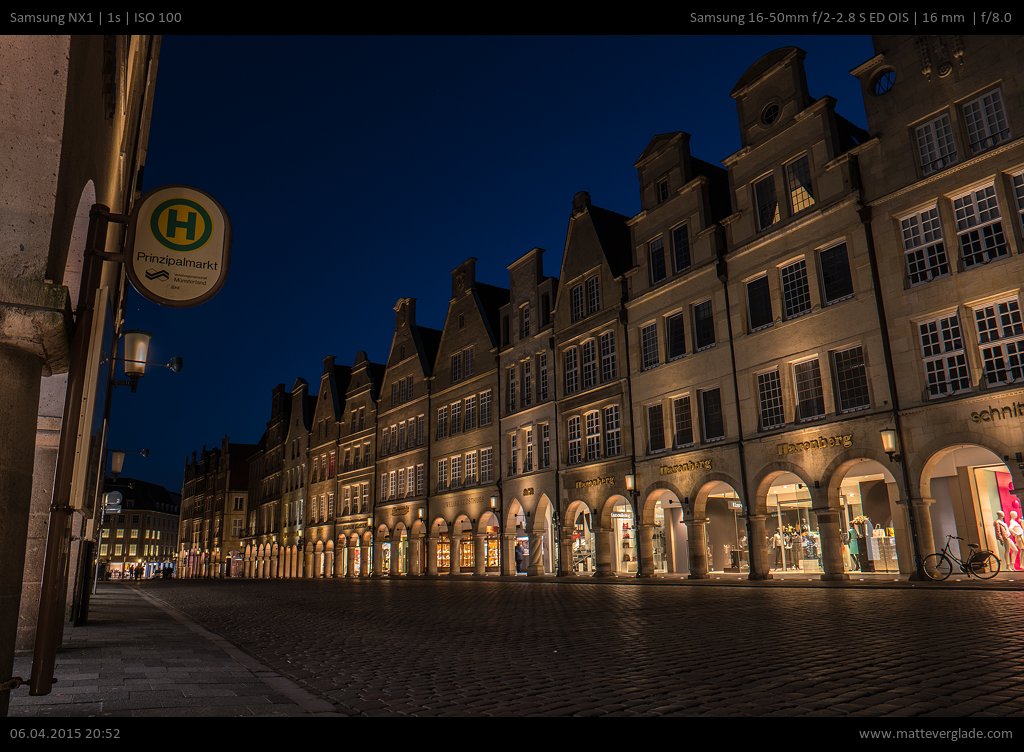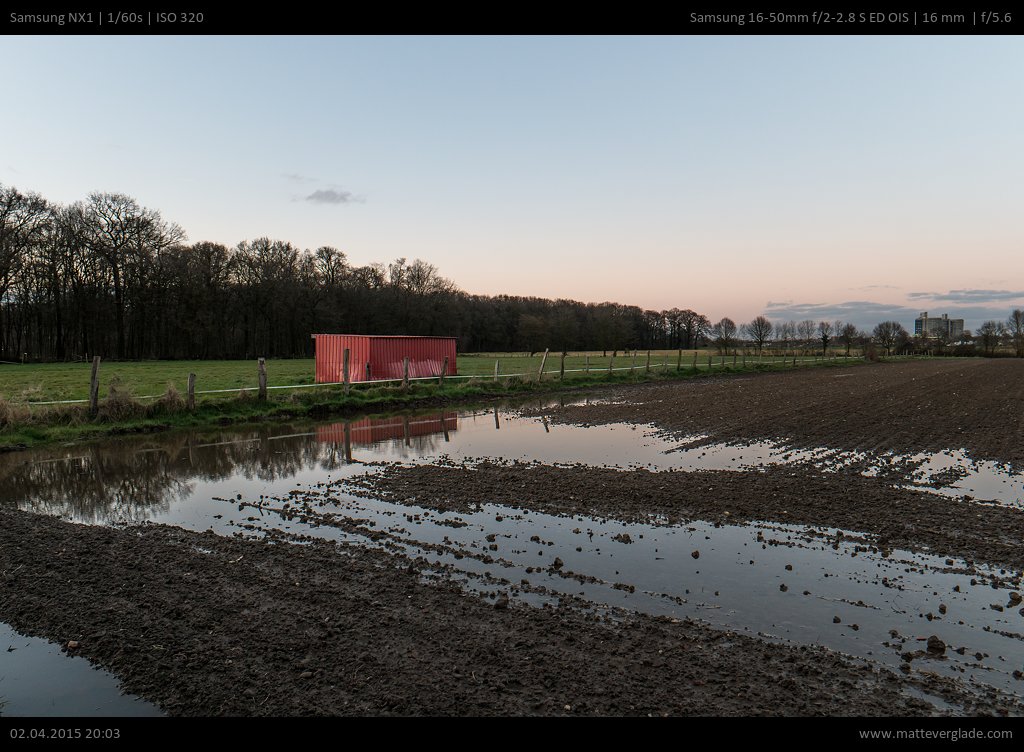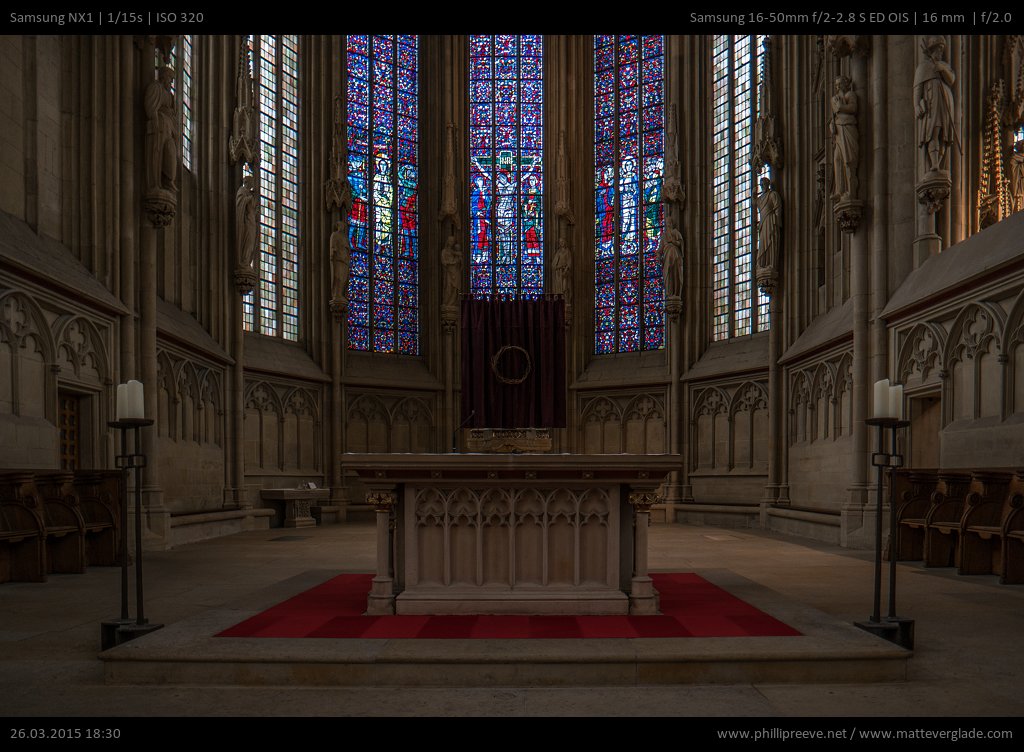 You can find more images taken with this lens in my corresponding Flickr set.
Other reviews