Introduction
In this review I would like to share my experiences with the Samsung 16mm F2.4 Pancake lens. The lens can be bought for a recommended price of 349€. As it's a pancake lens it's really small (2,4cm depth, 43mm filter thread) and lightweight (only 75g). Optical image stabilisation (OIS) is not integrated. The lens is available in black, white and pink (sic!). You can find the most important aspects of this lenses specification in the NX lens overview or in the official technical specifications.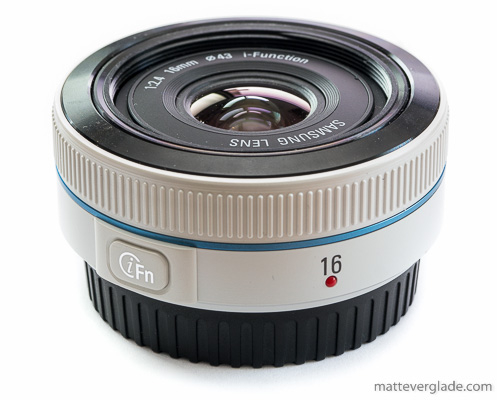 Build quality
The build quality is good. It feels pleasant in the hand and nothing is wobbling. The lens barrel mount is made using metal. I am not sure whether it's completely metal, but it has at least a metallic coating.
Focus
The focus speed is average amongst the other Samsung NX lenses. It's not to slow for proper operation, but neither is it really fast. I would say it's on par with the Samsung 50-200mm F4-5.6 and Samsung 20mm F2.8 lenses. The noise emission is average, too. You can hear it in quite environments, but it's not too awkward.
The manual focus is fly-by-wire and feels like with most other fly-by-wire lenses produced by Samsung. Unfortunately there is no AF/MF switch on the lens.
The front element of the lens is moving in and out during focussing, but the element is not rotating. This avoids problems when you are using a graduated neutral density filter or a polarising filter.
Image quality
Distortion and vignetting are automatically corrected by Lightroom based on the information Samsung delivers with their RAW files. Therefore those aspects are not evaluated in depth in this test. The RAW files show a bit of vignetting at all apertures and don't show any noticeable distortion. Anyway other testers who have used uncorrected RAW files claim that the vignetting and barrel distortion are quite high. That's not a surprise with this type of lens as wide angle pancake lenses tend to rely heavily on software corrections in post-processing. Be aware of the fact that the software correction can limit your ability to post-process the RAW files in Lightroom. The software correction which is applied already uses some of the reserves that you could normally gain from the RAW files. Therefore they are not available anymore for your personal post-processing.
Sharpness
Center sharpness is near to good wide open and improves till f4. f4 and f5.6 perfom best on this lens giving good results. f8 already looses a tiny bit of sharpness and at f11 diffraction kicks in.
The midframe never gets really good. Best performance is delivered between f4 and f8. f2.4, f2.8 and f11 are usable though. f16 already delivers soft results.
As with the midframe, the corners never get really sharp. Best performance is delivered between f5.6 and f11. Wide open the corners are really soft and there is some loss in contrast. f2.8 improves only a little in regard of sharpness and contrast. At f4 the contrast is much better, but sharpness hasn't reached the decent results between f5.6 and f11. f16 has a better contrast than the corners wide open, but softness is similar.
Summary:  f22 should be avoided by any means. Performance is really bad and diffraction is clearly visible in the whole photo. If corners are not too important, you can also gain good results wide open. f4 to f11 can be used for most cases, f5.6 seems to be the best aperture overall.

Bokeh
The circles are round at maximum aperture and are getting a slightly polygonal shape when stopped down. The general impression of the bokeh is acceptable, but I'd like it to be a bit more creamy and soft. Depending on the background it can get a bit busy, too.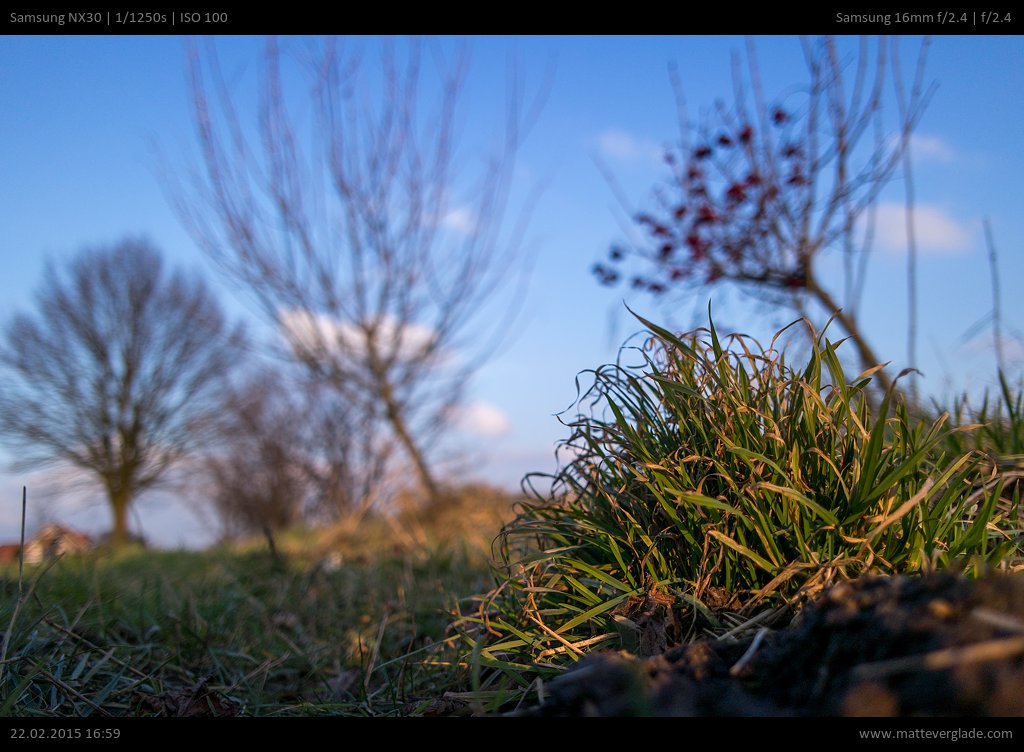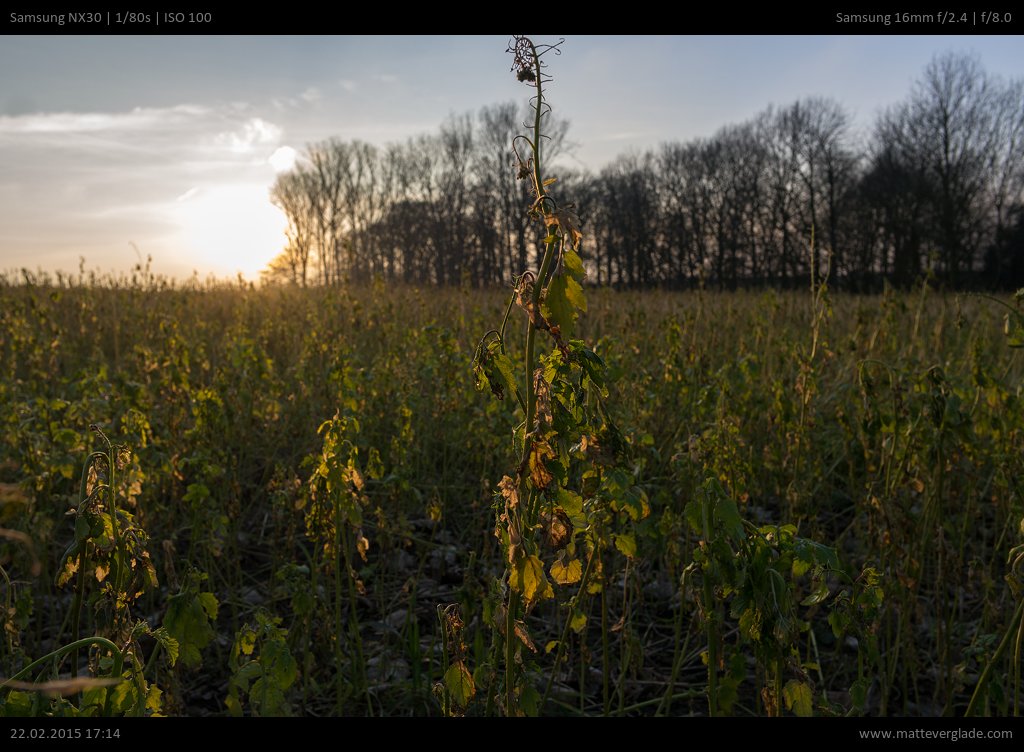 Flare Resistance / Contrast
In certain circumstances the lens produces little flares. They are not very intensive though. The contrast is not reduced by much when shooting against the sun.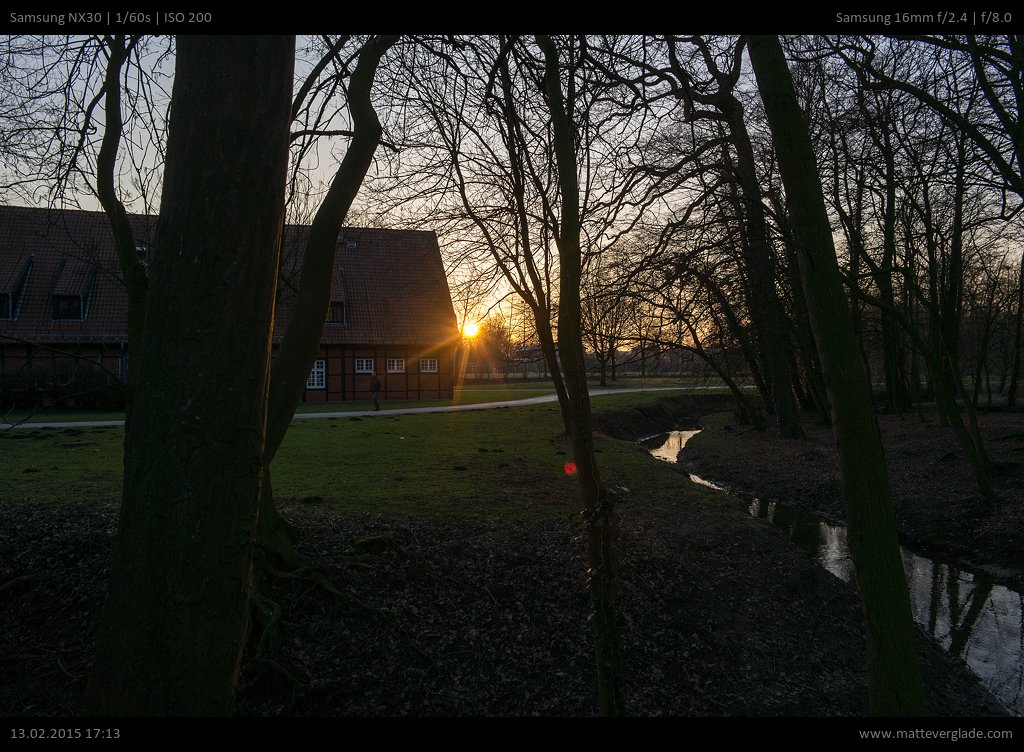 Chromatic Aberration (CA)
The lens produces CA with a size around one pixel. It is acceptable in the center and gets a bit worse towards the corners of the photo.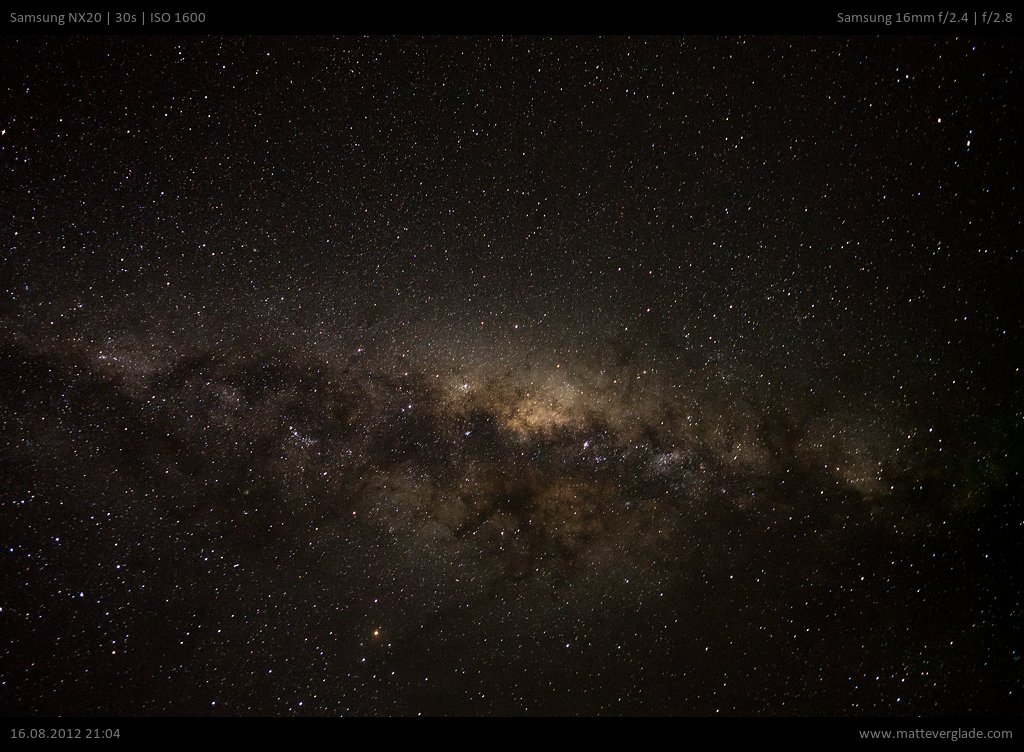 Alternatives
Samsung 16-50mm F3.5-5.6 PZ: At 16mm the image quality of the fixed focal length lens is superior, especially the corners between f3.5 and f5.6. Nevertheless the zoom lens is more convenient.
Samsung 16-50mm F2-2.8 S: Haven't tested the image quality yet, but the expensive premium-lens is a bit faster which might be useful. Additionally you don't need to switch lenses. If you have this S-lens, I don't see a reason why you should buy the Samsung 16mm F2.4 Pancake lens.
Samsung 12-24mm F4-5.6: If you don't need a fast aperture this zoom lens gives you a better image quality and is also more flexible. It's bigger, but also lightweight and is my personal recommendation for everyone who loves landscape photography.
Samyang 16mm F2.0: This lens is a little faster than the Samsung lens, but has to be used fully manual (e.g. no AF).  As it's heavier and bigger I don't see much sense to buy this lens, except maybe for slightly improved image quality.
Samyang 12mm F2.0: This is definitely the best option for Samsung NX users if you want to do some kind of star (trail) photography. The lens has a maximum aperture of 2.0, a wider angle-of-view and (important!) features a directly coupled manual focus (but no AF).
You might also think about buying legacy wide-angle lenses. Nowadays most wide-angle lenses from previous days are more expensive than the Pancake lens itself. Another problem is that most legacy lenses were produced for full-frame cameras. Therefore they might be fish-eyes, like the Minolta MD 16mm F2.8 Fish-eye and the Konica Hexanon 16mm F2.8 Fish-eye. As a result of this I don't recommend buying legacy wide-angle lenses for APS-C sized sensors as used in the NX cameras.
Conclusion
The lens is definitely a compromise between size and image quality. I'd say image quality is decent and it's a nice, small and cheap option. Whether you really need this lens depends on what other lenses you own and what you want to do with it. It's a good choice if you need the fast aperture and want to travel lightweight. Other than that there are good alternatives you could use, too.
Personally I owned this lens two times. Before the 12-24mm and 16-50mm PZ lenses were released this was the only option to get a wider angle of view. I enjoyed using it in Australia and was glad to have it with me. After I bought the 12-24mm lens and before I started to get interested in star photography, I sold the lens as there was no further need for this lens. After I started star photography and before the Samyang 12mm f2.0 was released, I bought this lens again as it was the best option for this. This lens is only used for this special purpose. Nevertheless the fly-by-wire focussing was quite annoying and therefore I replaced this lens with the Samyang 12mm F2 (see "Alternatives" for the detailed reasons).
Positive
Negative

Build quality
Fast aperture
Small
Lightweight

Much software correction applied to improve image quality
Image quality at the corners
Fly-by-wire focussing (when used for star photography)
Sample Images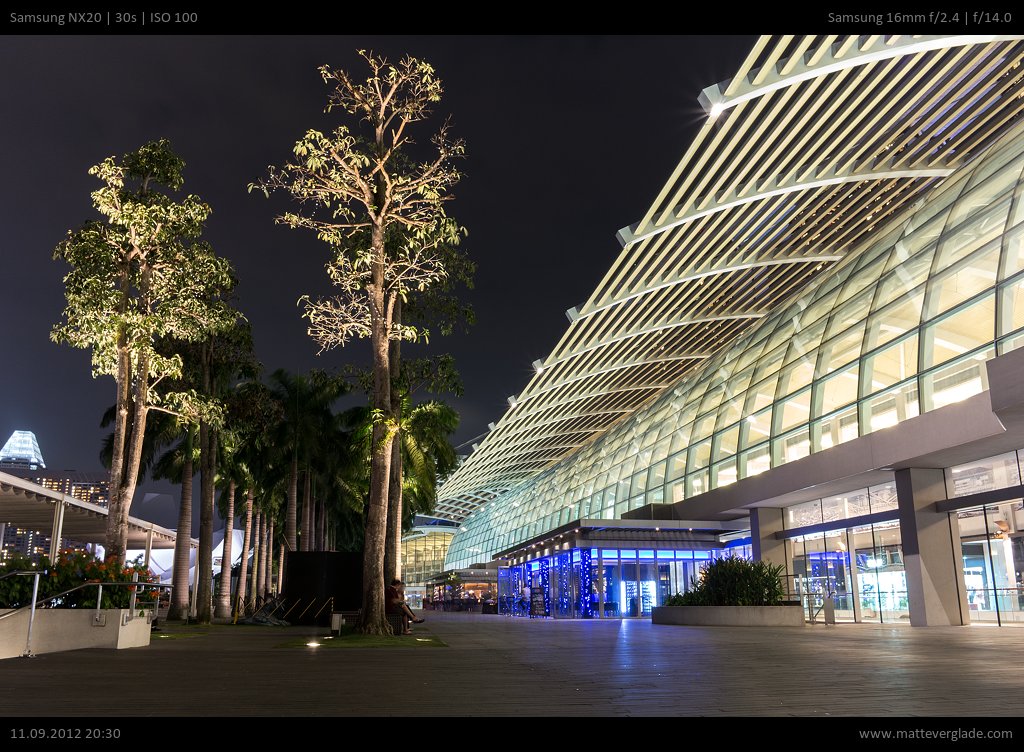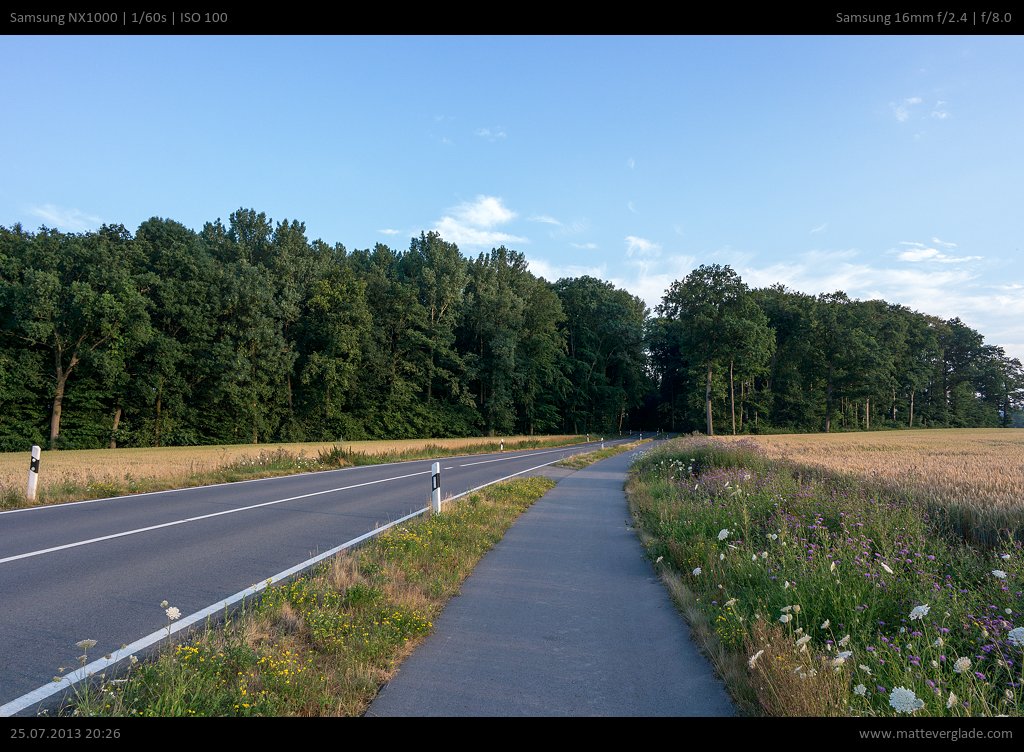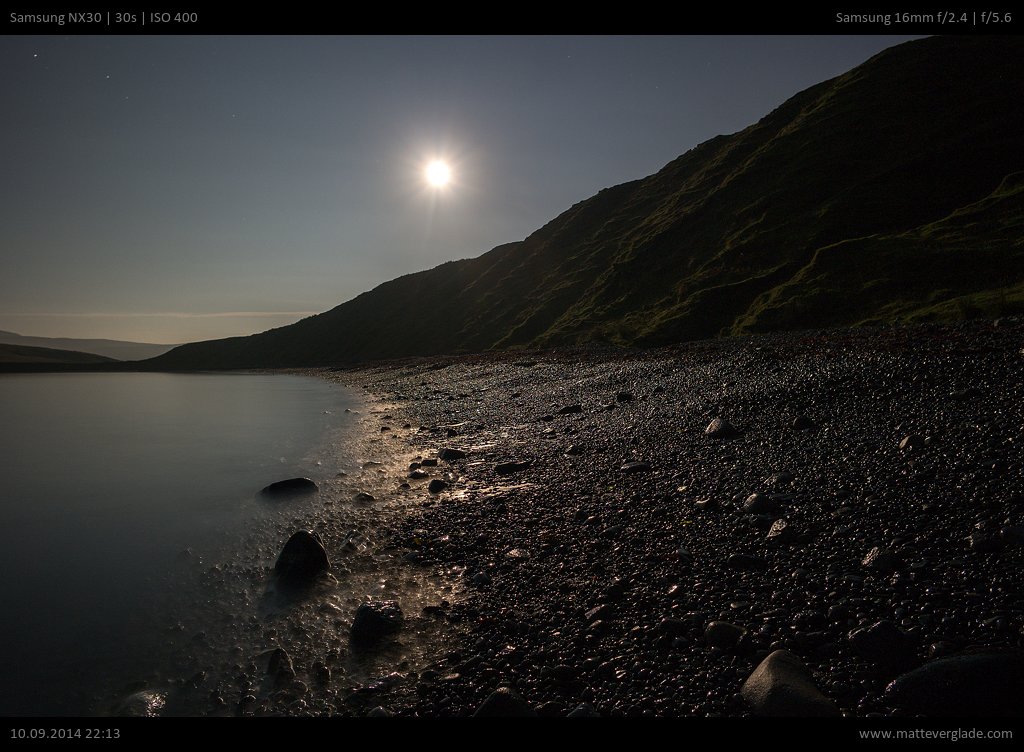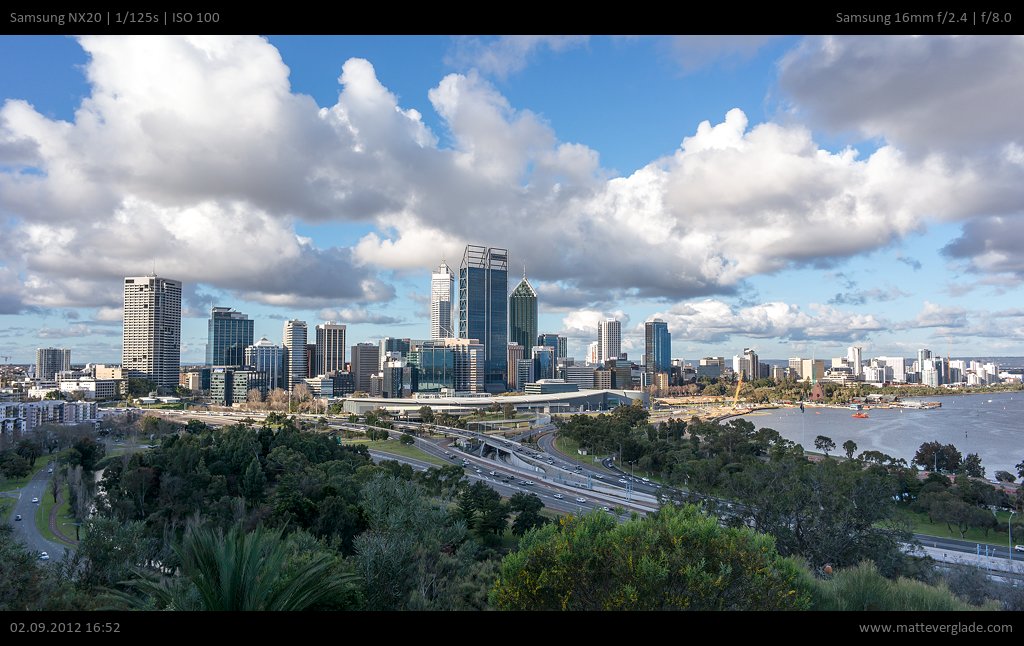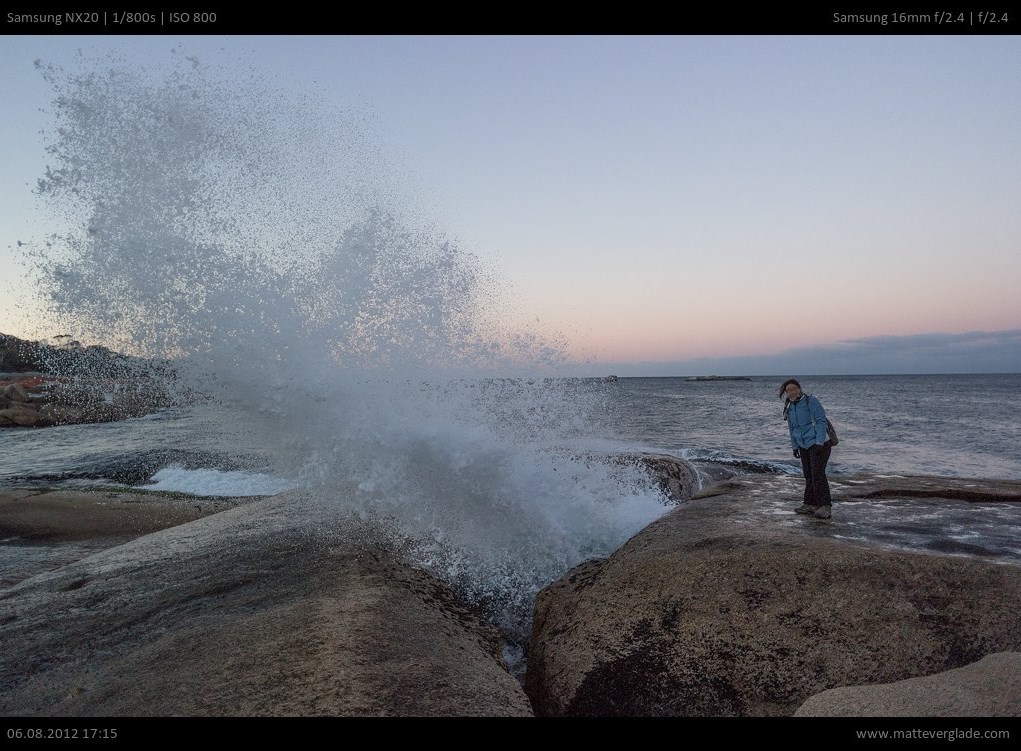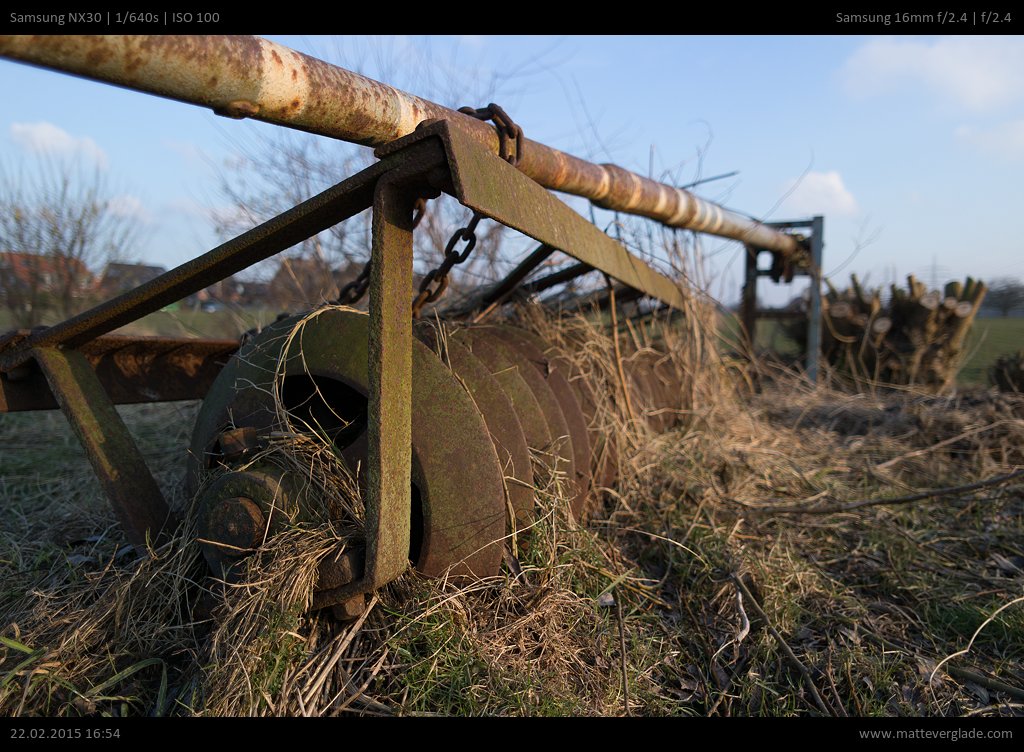 You can find more images taken with this lens in my corresponding Flickr set.
Other reviews